The SATELLITE '23 MOBILE APP IS NOW AVAILABLE:
New for SATELLITE 2023, attendees, sponsors, and exhibitors will have more opportunities for networking and meeting scheduling with our powerful new application. This year's app uses AI-powered matchmaking to increase business opportunities for all SATELLITE participants. Whether you're interested in SGx '23, the 7th annual Startup Space entrepreneur pitch competition, Partner Presentations, Conference Sessions, Networking Events, or meeting Exhibitors, this year's app caters to your specific needs and goals at the event. Let's get started!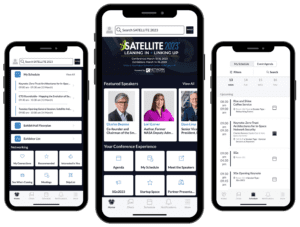 Access Your Account:
Launch the SATELLITE 2023 app directly on your desktop – download here!
Enter your Email to Login: This needs to be the email that you registered with for SATELLITE 2023.
Enter your Badge ID: Your SATELLITE Badge ID was included in your welcome email after registering for SATELLITE (can't locate your Badge ID – please contact us at inquiry@satshow.com).
Create a Password: You'll use this password moving forward to access your account on desktop/mobile.
Update your Profile: Add a headline, photo, product interests, summary, and more to stand to maximize your recommendations.
Download and install the SATELLITE 2023 app from the Apple App Store or Google Play Store (contacts, meetings, chats, saved exhibitors, agenda planning, etc. will sync across your devices).
---
Networking in the SATELLITE Application:
At the SATELLITE Conference & Exhibition, making new connections and having onsite meetings is crucial. The event brings together professionals from various industries, including government, military, media & entertainment, aviation, automotive, financial, and telecommunications, among others, who are involved in the satellite and space communities. To facilitate this, we've created 4 straightforward steps to help you schedule and make the most of your time at the event.
Request: Get recommendations, and search and scroll through lists (attendees, exhibitors/sponsors) to request meetings for a time and date that works for you!
Accept: Receive incoming meeting requests via notifications or in your email and accept them to synch with your personal calendar.
Attend: Meetings at the Walter E. Washington Convention Center can be scheduled for SATELLITE show hours on March 13-16. Whether meeting one-on-one or with a group, start planning and fill your calendar today.
Rate: Give anonymous feedback on your meeting with "Good," "Bad," or "Didn't Happen" and give a reason for your rating to qualify your post-event follow-ups.
---
Need Help?
Please see our Attendee Networking Guide & Exhibitor Networking Guide / Exhibitor Tutorial Video.
For all other questions, please contact us at inquiry@satshow.com.