LEAN IN & LINK UP at the largest and most important satellite event of the year!
No longer relegated to the margins of the connectivity ecosystem, satellites are impacting millions of lives, global businesses, and government action. Today there is unlimited opportunity for companies to take advantage of the efficiencies, savings, and benefits that satellite and space technology can offer. Here are just a few examples.
Delivering endless streams of data and boundless insights to help organizations drive decisions and empower them to better manage their assets.
Providing high-speed broadband and contributing to hybrid networks to connect businesses and consumers living and working in the world's vast remote and rural regions.
Equipping government and military with advanced communication services to ensure national security, protect the warfighter, and share life-saving intelligence from space.
Addressing the threat of climate change and resulting natural disasters through space-based climate monitoring technologies and breakthroughs in satellite communications.
Building a future space economy where enterprises can profit from in-orbit activities.
This abundance of innovation has led to exponential growth and rosy predictions about the resiliency and future outlook of the industry.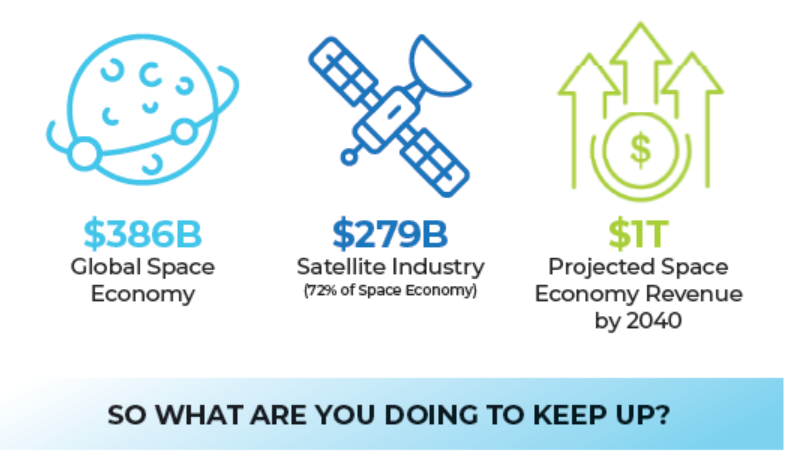 The first step you can take is to attend SATELLITE.
Since 1981, SATELLITE Conference & Exhibition has been universally recognized as the meeting place for the global space and satellite communities. Now you can take part in the four days of discussion, business, and connections that determine the industry mission statement for the rest of the year.
SATELLITE proudly serves the entire ecosystem of the satellite and space communities while also including professionals in commercial markets benefiting from satellite technology and applications, such as government, military, broadcasting, media & entertainment, aviation, maritime, automotive, financial, and telecommunications, among others.
Take a look at just some of the companies and organizations that attend SATELLITE year after year.
Airbus
Amazon
American Tower Corp.
Anuvu
ARABSAT
Astroscale
AWS
AT&T
Barclays
Bloomberg
Blue Origin
Boeing
Breaking Defense
Carnival Corporation
Charter Communications
City of Alexandria, VA
Deloitte
Delta Air Lines
Dept. International Trade (UK)
Deutsche Telekom
DISA
Dish Network
DuPont
Entel Chile
Es`hailsat Qatar Satellite Company
Eutelsat
ExxonMobil
FAA
Facebook
Forbes
French Ministry of Army
HawkEye 360
Honeywell
Hughes an EchoStar Company
iDirectGov
International Launch Services
Inmarsat
Intelsat
Iridium
JAXA
JHU APL
Joint Staff
JPMorgan
Keysight Technologies
Kratos Defense
Kymeta Corporation
L3 Harris Technologies
Leonardo DRS
Leidos
Lockheed Martin
MaC Venture Capital
Marine Corps
Maxar
Milbank LLP
Mynaric
Morgan Stanley
NASA
Naval Research Lab
NOAA
Northrop Grumman
Norwegian Cruise Holdings
NTIA
OneWeb
Oracle
Orange
Planet
Project Kuiper
Raymond James
Raytheon
Red Hat
SES Networks
SoftBank
Southern California Edison
SpaceNews
SpaceX
ST Engineering iDirect
State Farm
State of Alaska
SVB Financial Group
Telesat
U.S. Army
U.S. Department of Defense
U.S. Department of Homeland Security
U.S. Department of State
U.S. House of Representatives
U.S. Senate
U.S. Space Command
U.S. Space Force
United Launch Alliance
Verizon
Viasat
Virgin Orbit